Hot Paraffin Wax Therapy
29th
April 2012

0 Comments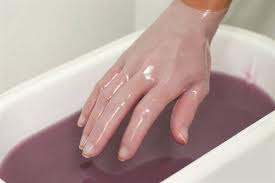 Yes, most of us know about hot paraffin wax treatments as a spa luxury to help our hands look young and beautiful.  It helps keep them moisturized, soft, supple and gosh….it feels incredible to have this treatment on our tired, over-worked hands and feet.
The most over-looked benefits of a paraffin therapy is that is soothes and moisturizes the skin, opens pores, increases circulation and promotes a sense of calm in the patient.  (hint:  calmness is a decompressing state as in a stress reducer.  Less stress equates to a better level of health!)It has also been used decrease inflammation and pain in joints from arthritis.
The reality of it is:  it's not just an add-on treatment for your manicure and pedicure.  In fact, it has been known for centuries that it offers healing qualities for numerous pathologies.  Physicians know it as a veritable way to speed healing and soothe muscle and joint pain.  Hot paraffin wax therapy is endorsed by rehabilitation specialists and massage therapists too.
Hot Paraffin is not a new therapy.  It has been in use in ancient Rome as a preparation for massage therapy.  In France it was embraced as a treatment to accelerate the healing of wounds.  In England, during WWI,  paraffin wax treatments were a protocol in the military hospitals for orthopedic disorders.  In more modern times it has been known to be used in the treatment of sports related injuries.  Pretty much in any situation where a heat therapy is indicated, a hot paraffin wax therapy session may be in order.
Here's a list of pathologies that may benefit from a paraffin wax therapy session.
Arthritis
Bursitis
Eczema
Fibromyalgia
Fibrositis
Inflammation
Muscle Spasm
Over worked/fatigued muscles
Psoriasis
Scar Tissue
Stiff Joints
Trigger Finger
Tendonitis
Tennis Elbow
Plantar Fasciitis
Skiers Thumb
Contra-Indications:  Paraffin treatments are not recommended for people with the following conditions
Hypertension
Diabetes
Varicose Veins
Note:  in the case of arthritis pain treatment, this therapy is not for those people whose skin is allergic towards wax or heat.  Furthermore, people with burns, dermatitis, open wounds and skin rashes as well as any other similar skin conditions must refrain from receiving a paraffin wax treatment unless otherwise prescribed by their physician.

Tags: Hot Paraffin Wax Therapy, Pain management via Hot paraffin Wax Treatments
Filed under: Massage Therapy Articles