Massage Therapy and Essential Oils Treatments
28th
August 2010

0 Comments
Original article by Jonell Elder, Young Living Circle Blog posted 8/25/10  Corrections and embellishment to article by Beau Miakinkoff 8/28/10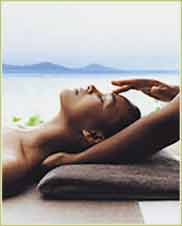 Massage is a very beneficial therapy, and by adding therapeutic grade essential oils to the massage you get multiple benefits.  If your massage therapist does not stock the essential oils you prefer to use, such as Young Living medicinal essential oils, then always remember to bring your own with you to your massage/aromatherapy session appointments.
The following is a suggestion list of several essential oils and their uses:
Frankincense – Excellent for increasing oxygen in the brain, depression, opening pineal gland.  Great for virtually instant relief of migrain headache, encourages the body to heal itself physically and spiritually. Use on brain stem, back of neck, ears, temples, forehead, third eye and chest.*
Clarity – Great for mental clarity, alertness, concentration, vitality, increases energy when tired.  Apply on edge of ears, wrists, neck, forehead and temples (Keep out of eyes!!) (Blend of Basil, cardamom, rosemary, peppermint, rosewood, geranium, lemon, palmarosa, ylang ylang, bergamot, Roman chamomile, and jasmine.)*
Joy –  Produces a magnetic energy to bring "Joy" to the heart, mind and soul, supportive for grief, and depression.  Put on heart chakra, ears, temples, shoulders and back of neck.  (Blend of Bergamot, ylang ylang, geranium, rosewood, lemon, mandarin, jasmine, Roman chamomile, palmarosa, and rose).*
Awakening – Supports awakening of inner self to assist in making transitions, stimulates creativity of the right brain amplifying the function of the pineal and pituitary glands helping to balance the energy centers of the body.  Put over heart, on wrists, back of neck, temples and forehead.  (Blend of pure almond oil base, essential oil blends of Joy™, Present Time™, Forgiveness™, Dream Catcher™ and Harmony™.*
Peace & Calming – Promotes relaxation and a deep sense of peace and emotional well being, reduces anxiety, depression, stress and insomnia.   Great for a peaceful nights sleep, excellent for calming overactive children.  Use on edge of ears, back of neck, chest and temples. (Blend of Tangerines, orange, ylang ylang, patchouli and blue tansy).*
Lavender – Calming, relaxing, balancing both physically and emotionally, for depression, reducing mental stress, headaches, great for skin problems, etc. "Swiss Army Knife of essential oils".  Put on back of neck, brain stem, temples, chest, third eye and ears.*
Peppermint – Great for headaches and migraines, nerve regenerating, for stomach aches, nausea, mental clarity, stimulating to the conscious mind, curbs appetite and cools down body temperature.  Put 1/2 drop on back of hand and lick it off, c lose the mouth and place tongue on the roof of your mouth, inhale deeply 4-5 breaths.  Place on location of pain or on stomach area for upset stomach or nausea.*
Grounding – Stabilizing and balancing to help us cope constructively with reality.  Put behind ears, wrists, back of neck, brain stem and temples.  (Blend of White fir, spruce, ylang ylang, pine, cedarwood, angelica and Juniper).*
Deep Relief Roll On – Excellent for muscle soreness and tension, soothes sore joints and ligaments, calms stressed nerves, reduces inflammation.  Apply on location of pain. (Roll on consists of Peppermint, Balsam fir, Clove, Vetiver, Wintergreen, Lemon, Helichrysum, Copaiba and Coconut oil).*
Now is a good time to get ready to be extra pampered for your next visit to your massage therapist. So get ready and:
Order your essential oils of choice here
If you have any questions and would like to learn more about other Young Living essential oils and their benefits I would be very happy to hear from you.  Please contact me.
CAUTION!! If you ever get essential oils in your eye, NEVER wash it out with water!! Put either V6 oil or any plain olive, almond or whatever oils you have in your kitchen on a tissue and gently wipe your eyes out. This will dilute the essential oil and greatly lessen any discomfort.
Please take note that this information refers exclusively to products from Young Living Essential Oils and is for educational purposes only. * This statement has not been evaluated by the Food and Drug Administration. This product is not intended to diagnose, treat, cure, or prevent any disease.
Contact info to schedule your appointment, click here

Tags: All About Frankincense, anxiety, Aromatherapy in Myrtle Creek Oregon, Awakening, Back Pain, Blends, Calming, Carrier Oils, Clarity, depression, Digestion, Emotional Release, Grounding, Joy, Lavender, Masage Therapy in Myrtle Creek Oregon, Massage Oils, Massage Therapy in Myrtle Creek Oregon, Muscle Tension / Fatigue, Pain, Peace and Calming, Peppermint, Relaxation, Safe Use, Sleep / Insomnia, WDT, Wellness, Young Living Essential Oils
Filed under: Massage Therapy Articles