Needleworks by Beau
31st
May 2012

0 Comments
A boutique full of beautiful
hand crafted items by
Beau, herself!
You'll find  useful things here for the kitchen, bath, bedroom, all over the household, babies, children, adults…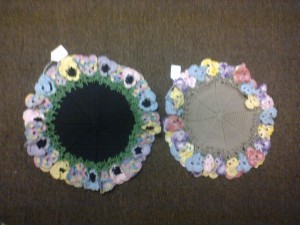 Pansie Doilies
$30.00 /pair
currently aval. are black center and med. taupe center
Beaded Handbags (clutch purses) patterns only:
NOT YET PICTURED:
Knitted, beaded pendant purses – must come see, there is a big box of these beautiful hand knitted treasures. Prices vary.

Tags: a boutique filled with beautiful hand crafted needlework items, baby clothes, bath mitts and face cloths, beaded knit pendant purses, beading, Christening gown, clothespin Christmas Tree Angel Ornaments, coaster doilies, Crhistmas stockings, crochet hot pad kits, crocheted afghans, crocheting, dish cloths, knitting, knitting books and patterns, Needleworks by Beau, table top doilies
Filed under: Hand Crafted