Beau's Favorite Providers of Other Services
10th
July 2010

0 Comments

Providers of Other Services
Hair color specialist and styling for men, women, children. Lynne does manicures and pedicures(acrylic nails too!). She's located in Gresham, Oregon.
Call Lynne's cell phone to
schedule your appointment!
(Lynne takes care of my hands and feet. As a massage therapist, I need someone to help me keep my nails in good repair and excellent health. She makes my feet look and feel really nice and it makes me feel good too!)
St. Johns Health Center

Dr. Joshua David,ND
503-286-4400


Why do we experience joint pain?

Joint and back pain frequently results from injury to or overuse of the tendons and ligaments that support a particular joint. Because ligaments naturally lack good blood supply, healing time tends to be slow compared to other tissues in the body. If the ligaments heal back to their normal length and strength, the joint will regain its stability. Often, however, after enduring injury, ligaments become stretched and are unable to resume the support to the join they once held. This instability can cause inflammation and pain.
How does prolotherapy work?

Prolotherapy involves administering precise injections of dextrose, glycerine, and procaine into the ligaments and tendons surrounding a joint. Each treatment promotes the body's own natural healing ability. Growth factors encourage more and more tissue to regenerate in the needed areas. As the joint becomes stronger and more stabilized, pain lessens, and in most cases disappears entirely.
Visit Dr. David's website for more information:

(Dr. David was my 1st term Kinese instructor, and my 3rd term Anatomy and Physiology instructor in massage school. He is also the man that healed my SI Joint issues in 2007 and saved my career as a massage therapist. I have much for which to thank him)

Land of the Chinook Nature Hikes,

Tours and Adventures, LLC
503-798-6126
Call or email today for details and reservations.
Camping and extended adventures also available.  Siuslaw River Tours coming soon!
Email:  landofthechinook@gmail.com
(Ramona and Clyde Clark are very good friends of mine.  You will most assuredly have the time of your life on these adventure tours!)
Gemini Gypsy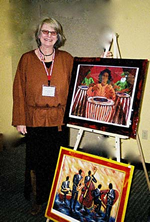 Glass by Good – Fused Glass Art Frames
by Artist Carole Lynne Good-Hanson
503-761-5450
email: geminigypsy@comcast.net
Art should be enhanced by proper framing. Gemini Gypsy creates frames that become a part of the totality of the piece of art.
(Carole is currently working on two cross-stitch pieces that I had hanging in my kitchen. I wanted them re-framed.  I have seen her work and fell in love with it.  It is hard to focus entirely on the artwork when it is encased in her beautiful frames….it's like having two works of art hanging on your wall!)
Jim Hanson
Hanson Heating
503-891-9138
"For All Your Heating & A/C Needs!"
(This is Carole Good-Hanson's husband! I keep forgetting to get a picture of James to post here!  Am thinking of taking a before massage picture and an after massage picture!  Wouldn't that be a perfect testimonial?)
Are You Looking for Alternative Health Care Providers?  I highly recommend the following professionals:
Phoenix Greenman, LMT                        503-577-5512
2607 SE Hawthorne Blvd
Portland OR 97214
Specializing in visceral manipulation, lymphatic massage, deep tissue & Reiki.(my personal note: He helped me with with eliminating trigger point issues and did an excellent job.)
Ariana Orton, LMT, NCMMT                 503-891-9654
1939 NE Broadway, Suite B
Portland, OR  97232
Clinical Massage Therapist, Cranio-Sacral Therapist
Alie Renner, LMP                                            630-326-5852
Shelton & Lacey, WA
Specializing in  Therapeutic and Deep Tissue Massage(my personal note:  I attended massage school with her.  The entire class dubbed her "Deep Tissue Queen".  You will not be disappointed.)
Charlie Goldston, DC                                   503-256-4830
William Jackson, DC
11115 SE Stark St
Portland, OR  97216
Jennifer Wyayy, LAc                               www.effectiveacupuncture.blogspot.com
Jennifer Curtiss, ND                                     503-234-7801

Tags: Beau's favorite providers of other services, Carole Good-Hanson, Dr. Joshua David ND, Fused Glass Art Frames, Gemini Gypsy, House cleaning, house cleaning services, Land of the Chinook Nature Hikes and Adventures, Leslie Wood, Lynne Lemke hair stylist, Massage Oils at White Dragon Therapies, nail specialist, Portland Massage Therapies, Prolotherapy, Ramona and Clyde Clark, St. Johns Health Center, Statesman Sentinel, Stephen Otto
Filed under: