Bodacious Creations
18th
January 2015

0 Comments
by Robert Baune (Beau's husband!)
WELCOME to Bodacious Creations webpage. Since 2014 I have been selling my raised cedar planter boxes at the Saturday growers market in Roseburg and participating in the local Douglas County shows at the fairgrounds. In 2016, I retired from my 40++ hours a week job as a commercial truck driver and am working towards supplying my raised cedar planter boxes to nurseries and garden centers in an attempt to have a wider exposure as well as attending home/garden shows that do not require too far for me to travel.  Gardening enthusiasts of all ages love these raised cedar planter boxes and I would love to have the opportunity to make these beautiful boxes more easily available to everyone.
All Natural Cedar For Organic Growers and Gardeners
I build these beautiful cedar planter boxes from rough cut cedar fence boards. I try to "re-purpose" used cedar fence boards whenever available. I use coated staples to limit the staining that occurs with weathering, outdoor wood glue, and sometimes wood screws to assist with the assembling of the boxes.  All boxes are "footed".  They all have a 2.75″ flat ledge (lip) on the top around the open end of the planter box which makes the dimensions a little wider and longer on the outside.
*Prices are subject to change as the cost of my materials change.
**Delivery is available and variable depending upon distance.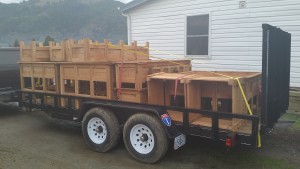 ***At present, I accept cash, checks, credit and debit card transactions. (checks are accepted with valid picture ID).  I require 50% payment at the time of placing your order and the remaining 50% will be due at the time of pickup/delivery.
~~Important note: your pre-payment in the form of a check will have to clear the bank before your order will start to be filled.  Any returned checks will be charged a $25.00 fee.~~ 
~~Cedar Planter Boxes~~
Please click on the links (the purple highlighted items) below to be taken to a picture of each size of planter box that will also give you more specific details of the dimensions.
13″ high (our smallest raised box)
15″ sq "Bodacious Baby" box"   $20.00
16″ high (our regular-sized raised boxes)
24″ high raised boxes
32″  high (our "tall" raised boxes)
2 ft Sq. Potato Box  (set of 3) $45.00
Originally for growing potatoes vertically, saving real estate in your garden for more/other veggies! These stack-able boxes are so  versatile, they may be used for sectioning herbs or having multiple strawberry boxes all around the garden.
Bodacious Bungalow – an avian abode $15.00
(Miriam Webster defines "Bodacious" as very good, impressive, remarkable, noteworthy, and sexy!)
~~~~~~~
Need A Specific Size?  Want Special Details?
I will custom build to suit your needs.  I am happy to give you a quote for any custom, built-to-suit item that you want.  Please take some extra time to view the photos in my "Custom Built Bragging Book".
Brag Book Page 1 , Brag Book Page 2
Most Common Questions About My Cedar Planter Boxes:
Contact Information
I am not usually available to answer my phone as I am most likely working out in my noisy shop.  Please do, however feel free to call me and leave a message: 541-863-9414.   I will return your call as soon as I am able.  You  may also leave me an email at tdeber57@yahoo.com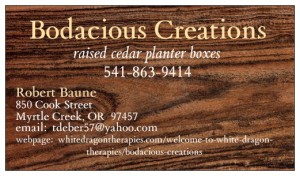 850 cook Street * Myrtle Creek, Oregon 97457
What People Say About My Raised Cedar Planter Boxes:
"I love my planter, you do beautiful work. Thank You" 4/1/16 M. Cossairt


Filed under: