Topical Analgesics
25th
August 2010

0 Comments
by Beau Miakinkoff
These topical analgesics are available for purchase at White Dragon Therapies.  I have tested and used them all and have included my comments on rating the effectiveness of each product. [BioFreeze is pictured, but I no longer offer this product]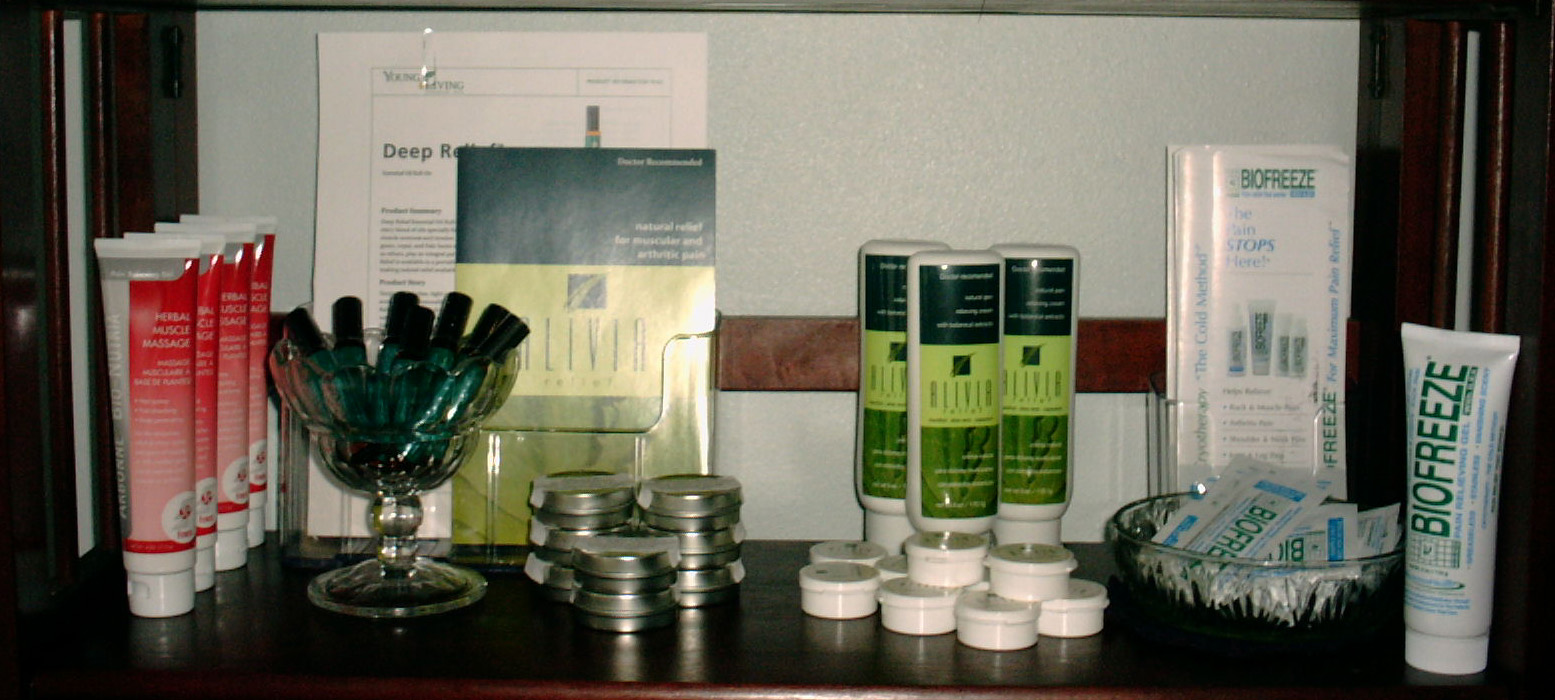 Alivia (6 oz. tube of natural pain relieving cream with botanical extracts. Fast, temporary relief from minor pain of muscles and joints associated with backaches, strains, sprains, arthritis and bruises. This product has both warming and cooling effects. It has a fresh smelling citrusy (lime) scent that is non-lingering. I found this to be the only remedy for night-time use that would stop the break-through pain from SI Joint injury issues.  It was a life saver for me. I recommend this analgesic when other milder pain relief is not working…I call it the 'Top Gun" of natural pain relief!  Free samples are available. $16.50/tube (please be aware that Alivia is no longer in production and I have depleted my stock of this product.  If you are seeking a topical analgesic lotion of this high caliber, please scroll down to Natural Pain Relief Lotion)
Arbonne Bio-Nutria (4 oz. tube of pain releiving gel) This product is 100% herbal, non greasy, fast absorbing with a deep penetrating warming effect. This is great for temporary relief of minor aches and pains of muscles or stiff, swollen joints due to exercise and overuse or arthritis. It has a pleasant fresh menthol aroma that does not linger.  This analgesic gel is excellent for over-worked, tired muscles be it from on the job, excessive exercise or just played too hard at your favorite sport! (I am currently working on trying get sample packets. At present, Arbonne does not have samples of this available.  But I can give you a 1/2 oz sample into a small round tin to try) $15.50/tube  (please be aware that Arbonne is no longer offering this item and I have depleted my stock of this product.  If you are seeking a topical analgesic lotion, please scroll down to Natural Pain Relief Lotion)
Deep Relief Essential Oil Roll-on (10ml glass vials)Deep Relief Essential Oil Roll-on is a Young Living Essential Oil proprietary blend specially formulated to relieve muscle soreness and tension. (Contains essential oil Wintergreen) Customer Price:  $25.99 USD
Wholesale Price:  $19.75 USD
To order Deep Relief Essential Oil Roll-on click here
(Contraindication:  Wintergreen is a known skin irritant.  2% of the population will have immediate sensitization with wintergreen.  I am one of the 2%!  This product is not recommended for persons with sensitive or delicate skin.)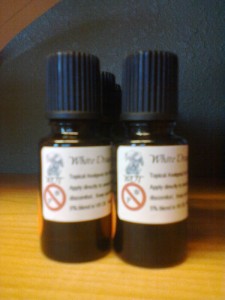 White Dragon Therapies Pain and Inflammation Relief Blend (15ml glass bottles with personal roll-on applicators)  A fast-acting, long-lasting analgesic/anesthetic therapeutic grade essential oil blend  that is ready to use right away (meaning there is no further dilution needed) for topical application for pain.  You will be pleasantly surprised  at how "quietly" this essential oil blend works.  There is no "wow" factor as with a menthol or capsicum ingredient.  My blend just goes right to work and stays at work! (a no fuss, no muss kind of pain management…Ideal for muscle, tendon, ligament, nerve tissues.  Most helpful with post injuy and post surgery pain.  $20.00 each.  please call me or email me with your orders.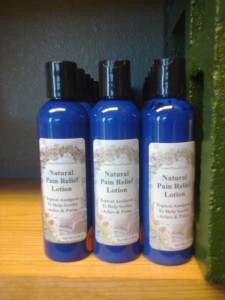 Natural Pain Relief Lotion (4 oz with snap open pour top) A topical analgesic to help soothe aches and pains.  Offers temporary relief of pain from back pain, bursitis, fibromyalgia, joint pain, muslce pain, osteo and rheumatoid arthritis, nerve pain, ligament pain, tendon pain and prutitis.   $13.00 each.  please call me or email me with your orders.
This is the #1 product that I now use in my massage clinic since Alivia and Arbonne's Bio-Nutria Muscle Gel are no longer in production – my new "Top Gun".  It is a light smooth lotion that is quickly absorbed into the skin that provides many hours  of comfort. It has been a long journey in making a replacement that is as good as or better than the Alivia.  I use this lotion myself and am delighted to FINALLY be able to offer it to my clients and customers for their pain relief needs.  If you liked the results of Aliva, you are going to LOVE how this lotion stops the pain.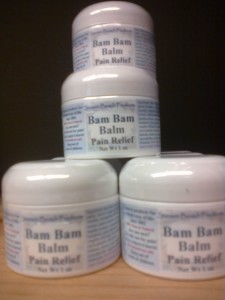 Bam Bam Balm (1 oz jar) this is a balm version of the Natural Pain Relief Lotion.  Excellent for ligament and tendon sprains and strains as well as for helping to soothe the aches and pains as listed for the  Natural Pain Relief Lotion.  $15.00/jar.

Shingles Relief :  I was handing out a flyer with instructions for people to make their own blend, but it can get rather costly for some people to buy the individual bottles of each essential oil to make the blend themselves.  This way, I have the relief solution already blended and ready to use.  It is in a 15ml bottle for $ 16.00 .

Tags: Alivia, Arbonne Bio-Nutria, Back Pain, bone pain, Bursitis pain, Chronic pain, Deep Relief Essential Oil Roll-on, Fibromyalgia pain, joint pain, muscle pain, Natural Pain Relief Lotion, Nerve pain, osteoarthritis pain, Pain relief, Portland massage therapy, Pruritis, rheumatoid arthritis pain, Topical Analgesics, Topical anesthetics, WDT, White Dragon Therapies Pain and Inflammation Relief Blend
Filed under: Therapeutic