Lemon Essential Oil
9th
July 2010

0 Comments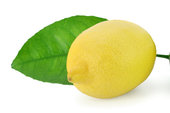 Lemon (Citrus limon) has a strong, purifying, citrus scent that is revitalizing and uplifting. Lemon consists of 68 percent dlimonene, a powerful antioxidant.
It is delightfully refreshing in water and may be beneficial for the skin. Lemon may also be used to enhance the flavor of foods.  Lemon essential oil promotes clarity of thought and purpose and has a fragrance that is invigorating, enhancing and warming.  Lemons were used in Europe as early as 200 AD and introduced to the Americas in 1493 by Christopher Columbus.  Lemons were given to sailors to prevent scurvy and other vitamin deficiencies
Lemon essential oil is cold-pressed from the rinds of lemons.Jean Valnet MD estimated that it takes 3,000 lemons to produce one kiloof oil. In his book, The Practice of Aromatherapy, Valnet wrote that lemon is a tonic for supporting the nervous and sympathetic nervous system.* Lemon has an approximate ORAC of 6,619 (TE/L). TE/L is expressed as micromole Trolox equivalent per liter.
Some primary benefits of using lemon essential oil when diffused are to refresh and stimulate the mind, improve memory and promote a sense of well-being.  I personally love how it makes my whole house smell like summer time…it is truly uplifting.  Lemon can be used for home remedies as well:  it strengthens finger and toe nails, removes sticky substances and can be used as an insect repellent.  When ingested it can be an excellent source of d-limonene (a powerful antioxidant).  I put 2-3 drops of lemon essential oil into my bottle of water for a refreshing thirst quencher!  Lemon has also been used to fight food poisoning, malaria and typhoid epidemics.  It has been used to lower blood pressure and to help with liver problems, arthritis, and muscular aches and pains.
How to use: For dietary, aromatic or topical use. When using as a supplement, put one drop in a capsule or in 4 fl.oz. of soy or rice milk.
More usage tips:
*furniture polish = 1tsp lemon essential oil + 1cup mineral oil
*general household cleaning, removes gum, grease & oil spots, wood stain,*1 drop in the laundry wash is refreshing, as well as 2-3 drops in the dishwasher for spot free dishes!
*diffuse throughout your home to freshen, deodorize and sterilize the air.
* 10 drops on a cotton ball and place inside your vacuum cleaner.
Lemon essential oil can be blended with the following for complimentary use:  R. chamomile, eucalyptus,fennel, frankincense, geranium, juniper, peppermint, sandalwood and ylang ylang.
Possible skin sensitivity. If pregnant or under a doctor's care, consult your physician. Dilution recommended for both topical and internal use. Dilute before using on sensitive areas such as the face,neck, genital area, etc. Keep out of reach of children. Avoid using on infants and very small children. Avoid using on skin exposed to direct sunlight or UV rays. Do not use near fire, flame, heat or sparks.
Lemon is one of the nine essential oils in the Everyday Oils kit.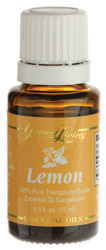 Order yours here
EarthKosher Certified
* This statement has not been evaluated by the Food and DrugAdministration. This product is not intended to diagnose, treat, cure,or prevent any disease.
34 ways to use Lemon Essential oil

Tags: Everyday Oils Kit, Lemon essential oil
Filed under: All About The Everyday Oils Kit