Peace and Calming Essential Oil Blend
9th
July 2010

0 Comments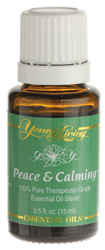 Peace & Calming® is a gentle, fragrant blend of tangerine (Citrusnobilis), orange (Citrus aurantium), ylang ylang (Cananga odorata),patchouli (Pogostemon cablin) and blue tansy (Tanacetum annuum) essential oils. This gorgeous scent was specifically blended to lift your mood or ease the discomforts of stressful situations.  If you've ever felt down or often feel anxious in certain settings, consider using this soothing essential oil blend.
This blend is the preferred scent choice of many people, as its calming qualities help them feel more in control.  Peace & Calmingmay be especially calming and comforting to young children after anoveractive and stressful day.
Key ingredients in this proprietary blend of oils has produced a synergistic calmness.  Young Living also added the perfect harmony to this blend that helps to eliminate negative emotions:
*Tangerine is a calming essential oil that helps with occassional nervous irritability. Tangerine essential oil contains esters and aldehydes that are calming and sedating.
*Ylang ylang is extremely effective in calming and bringing about a sense of relaxation.
*Blue Tansy induces relaxation and promotes feeling of comfort.
*Orange has a great fruity scent that lifts the spirits while providing a calming influence on the body.
*Patchouli helps relieve negative emotions.
The primary benefits of this wonderful essential oil blend can help purge your system of nervous emotion, increasing emotional wellness.  Peace and Calming has an uplifting scent that evokes positive emotions.  It is easily portable and can be used wherever crowded areas may be overwhelming.  The essential oils that comprise this blend are safe to use on the feet of even the fussiest of children.
When diffused for aromatic use:  ithelps calm tensions and uplift the spirit, promoting relaxation and adeep sense of peace. Diffuse inbedrooms, living areas and office.
When used topically:  apply 1-2 drops to the bottoms of the feet or in a warm bath for a  wonderful prelude to a peaceful night's rest.  It may also be used at the wrists and outside of ears.   Blend with V-6™ Enhanced Vegetable Oil Complex for acalming massage.
Contraindications: Possible skin sensitivity. Peace and Calming contains citrus essential oils, which may cause skin sensitivity when exposed to sunlight.  Avoid direct sunlight or UV ray exposure for 12 hours after application. If pregnant or undera doctor's care, consult your physician. Dilution not required;suitable for all but the most sensitive skin. Generally safe forchildren over 2 years of age.
Peace and Calming is one of the nine essential oils in the Everyday Oils kit.  Other interesting facts about the essential oils used in Peace and Calming essential oil blend:  Ylang ylang is historically known to be an aphrodisiac and is widely used as a floral scent in many perfumes.  In Indonesia, the petals of the ylang ylang flower are strewn across the marriage bed.  The blue-green color of Peace and Calming comes from the essential oil Blue Tansy.  Patchouli was placed between Indian cashmere shawls en route to Victoria England to protect the merchandise against moths.  Orange essential oil has been studied for its ability to combat negative emotions and bring about a deep sense of security.
Order yours here
EarthKosher Certified
* This statement has not been evaluated by the Food and DrugAdministration. This product is not intended to diagnose, treat, cure,or prevent any disease.

Tags: Everyday Oils Kit, Peace and Calming essential oil blend
Filed under: All About The Everyday Oils Kit