Melaleuca alternifolia (Tea Tree) Essential Oil
24th
January 2015

0 Comments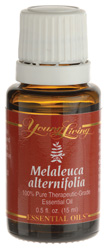 Melaleuca alternifolia is highly regarded for its wide range of uses. It supports the immune system* and is beneficial for the skin. Commonly known as Tea Tree Oil.
Properties of this multi-purpose essential oil are analgesic, anti-bacterial, antifungal, anti-infectious, anti-inflammatory, antioxidant, antiparasitic, a strong antiseptic, antiviral, decongestant, digestive, expectorant, immune stimulant, insecticidal, neurotonic, stimulant, and tissue regenerator.
The leaves of the Melaleuca tree  have been used for centuries by the aborigines to heal cuts, wounds, and skin infections.  With 12X the antiseptic power of phenol, it has some strong immune building properties.
French Medicinal uses of Tea Tree have included athlete's foot, bronchitis, colds, coughs, diarrhea, flue, periodontal disease, rash, skin healing sore throat, sunburn, tonsillitis, vaginal thrush. Other possible uses may be for acne, boils, burns, candida, cold sores, digestion, fungal infections, hysteria, infectious disease, inflammation, mites, schock, ticks, viral infections, tinea pedis, warts, and wounds.
Body systems affected from using Tea Tree are immune and respiratory, muscles, bones, and skin.
Tea tree oil has a highly aromatic influence to promote cleansing and purity. It blends well with all citrus oils, cypress, eucalyptus, lavender, rosemary and thyme.
Safety Data: repeated use can possibly result in a contact sensitization on the skin. This oil is not recommended for children under the age of six, however it may be used with caution and in GREAT dilution for children that are six years old and over.
This essential oil blend is one of the oils in the Everyday Oils kit.
order yours here
EarthKosher Certified

Tags: Melaleuca alternifolia, Tea Tree essential oil, Your one stop resource for all the oils in the Everyday Oils Kit
Filed under: All About The Everyday Oils Kit