Stress Away Essential Oil Blend
24th
January 2015

0 Comments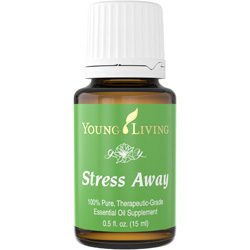 Young Living's Stress Away™ essential oil blend is a natural solution created to combat normal stresses that creep into everyday life. Stress Away is the first product to contain the unique stress-relieving combination of lime and vanilla pure, therapeutic-grade essential oils. Stress Away also includes copaiba and lavender to reduce mental rigidity and restore equilibrium. Featuring powerful plant constituents, such as the cedrol found in cedarwood and the eugenol that occurs naturally in vanilla, Stress Away can help induce relaxation and reduce occasional nervous tension.
Ingredients
Copaiba (Copaifera reticulata) is extremely high in in B-caryophyllene which is well documented for its anti-inflammatory actions.  It has traditionally been used for muscle ached and pains, stiffness, and nervous exhaustion.  it helps to elevate the mood and lift depression, and may amplify the effects of the other essential oils in the blend.
Lime (Citrus aurantifolia) has a fresh, lively fragrance that is stimulating and refreshing.  It helps to overcome exhaustion, depression, and listlessness.
Cedarwood (Cedrus atlantica) may be calming and may help to eliminate nervous tension.
Ocotea (Ocotea quixos) may help with emotional balance.
Lavender (Lavandula angustifolia) is relaxing and promotes health and a good general sense of well-being.
Other ingredients contained in this blend:  Vanilla (Vanilla planifolia)
Body Systems Affected by this blend of essential oils may be effective and helpful in dealing with problems related to emotional balance and immune system functioning.
How to use:  apply to wrists, temples, neck, or to desired areas of the body.
Safety Data: Consult a physician before using this blend if you are pregnant, nursing, taking medications, or suffering from a medical condition.  Do not apply to areas of sensitive tissues.  Not for children under six years of age.
This essential oil blend is one of the oils in the Everyday Oils kit.
order yours here
EarthKosher Certified

Tags: Stress Away essential oil blend, Young Living Essential Oils, Young Living Everyday Oils Kit
Filed under: All About The Everyday Oils Kit