Original Raindrop Technique at White Dragon Therapies
9th
July 2010

0 Comments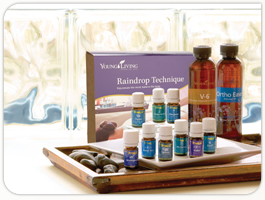 ORIGINAL RAINDROP THERAPY MASSAGE (modified by Beau Miakinkoff of White Dragon Therapies) is an essential oils relaxation (non-invasive, non-deep muscle) back massage. It integrates Vita Flex, the lightest, most soothing massage techniques, an electical energy alignment and Tibetan reflexology with essential oils combined with relaxing applications of warm towels. Nine therapeutic-grade essential oils (Valor, Oregano, Thyme, Basil, Rosemary, Cypress, Marjoram, Ortho Ease, Aroma Seiz and Peppermint) are dispensed like little drops of rain from a height of about six inches above the back and massaged along the vertebrae. RT utilizes the antiviral, antibacterial and anti-inflammatory properties of several key essential oils to boost the immune system and help the body heal itself at its own pace.
Soothe Aches and Pains: As we age, our bodies begin to accumulate a lifetime of hard work and abuse – muscles tighten and joints stiffen. RT is used to assist in releasing tight or spastic muscles as well as relieving joint and bone pain like arthritis.
Reduce Colds and Flu: Have you ever had a cold or flu that seemed to hang on for weeks on end? Scientists have determined that viruses and bacteria are becoming more and more resistant and harder for our immune systems to fight off. RT is a powerful and stimulating tool to support the immune, endocrine and nervous systems.
Rejuvenate Your Soul Ever feel bombarded by negative energies, stress or miserable days that make you feel like you are tuned into some chaotic frequency? Raindrop Therapy aromas create peace and calming, allowing your body to restore harmony to your inner mind and soul. These therapeutic essential oils are used in a specific sequence to recreate the body's natural harmonic frequencies and restore balance.
Although the entire process takes about 1 hour to complete, the oils will continue to work in the body for 5 to 7 days bringing balance and harmony to the body physically, mentally and emotionally.
I am offering the Original RT massages for $85.00. I have designed this session to be highly beneficial for the individual. White Dragon Therapies RT includes a central nervous system balancing (electrical alignment) at the cervical spine, Tibetan Reflexology on the legs and feet which touches every organ in the body (even the brain), and a one ounce shot of NingXia Red (a super anti-oxidant juice drink that supports the immune system, liver function, eye health & energy levels….this beverage will not spike blood sugar levels) to drink afterwards.
I am also offering the option to have an Original RT Add-on to any massage for an additional $35.00. (The add-on version is a quick application of the essential oils, the RT specific massage strokes with the hot towel treatments)
NOTE:  Contra-indications for the Original RT therapy are high blood pressure, on medication for high blood pressure, pregnancy, epilepsy, allergies to nuts (almonds to be specific) Note: if you have or are being treated for HBP, I can omit those essential oils from your RT therapy that may adversely interact with your physician prescribed medications and subsititute for an oil(s) that will not affect your BP levels.
Contact info to schedule your appointment, click here

Tags: Massage Therapy Myrtle Creek Oregon, Myrtle Creek Massage Therapy, Original Raindrop Technique, WDT
Filed under: Aromatherapy & Raindrop Techniques