A One Stop Resource For Thieves Essential Oil Blend Information
13th
July 2010

Closed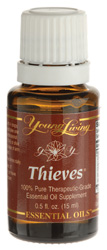 Thieves® was created based on research about four thieves in France who covered themselves with cloves, rosemary, and other aromatics while robbing plague victims. This proprietary essential oil blend was university tested for its cleansing abilities. It is highly effective in supporting the immune system and good health.* Thieves essential oil blend is a Young Living Therapeutic Grade™ essential oil.
Thieves oil is considered the anti-plague oil.  The qualities of this oil blend are anti-viral and antiseptic and highly effective in protecting the body from the onset of flu, candida and colds.  It may also help to reduce infections that cause the discomforts from sinusitis, bronchitis, pneumonia, coughs, strep, sore throats, periodontal disease, cold sores, bruises, cuts, slivers and splinters.  May also help infants with alleviating teething pain.
How to use: For dietary, aromatic, or topical use. When using as a supplement, dilute one drop in 4 fl. oz. of liquid such as goat's or rice milk. Diffuse for short periods of time (1/2 hour or less) in the work or home environment. Possible skin sensitivity. If pregnant or under a doctor's care, consult your physician. Always dilute before applying to the skin or taking internally. Keep out of reach of children.
Key ingredients in this proprietary blend of oils are
clove† (Syzygium aromaticum): known for its immune-enhancing qualities, it is nature's richest source of eugenol, the highest-scoring single ingredient tested for its antioxidant capacity on the ORAC scale.
lemon† (Citrus limon): a natural solvent and cleanser, it contains 68% d-limonene and is a powerful antioxidant with the ability to balance an acidic system.
cinnamon† (Cinnamomum verum): has a reputation for relieving discomfort during the winter season and supporting the digestive system.  It is also highly antioxidant.
Eucalyptus radiata†: has many health enhancing qualities.  It is one of the most versatile of the eucalyptus oils.  This one contains eucalyptol as one of its major constituents which has been reported as being effective against bacteria in topical applications.
rosemary†(Rosmarinus officinalis CT 1,8 cineol): is naturally energizing and beneficial in restoring mental alertness when experiencing fatigue.
This essential oil blend is one of the oils in the Everyday Oils kit.
How to Order your Thieves starter kit  <<print this out before ordering below
Order yours here
EarthKosher Certified
Links to other articles about Thieves or products with Thieves oil as an ingredient:
Scientific Details of the Oils in Thieves
* This statement has not been evaluated by the Food and Drug Administration. This product is not intended to diagnose, treat, cure, or prevent any disease.

Tags: Everyday Oils Kit, Thieves essential oil blend
Filed under: All About The Everyday Oils Kit, All About Thieves