Valor Essential Oil Blend
13th
July 2010

0 Comments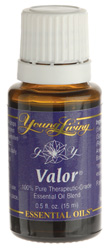 Valor® is an empowering combination of therapeutic-grade essential oils that works with both the physical and spiritual aspects of the body to increase feelings of strength, courage, and self-esteem in the face of adversity. Renowned for its strengthening qualities, Valor enhances an individual's internal resources. It has also been found to help energy alignment in the body.
Physical and spiritual is essential to overall health and well-being. Young Living's Valor essential oil blend empowers the mind and encourages self-confidence.  The balancing properties of all the individual oils combined in Valor lends the mind to visualize and attain self empowerment. Valor can help you reach your fullest potential, whether used as a fragrance, in the Raindrop Technique, or for tension relief.
How to use: For topical or aromatic use. Apply on bottoms of feet and to throat, wrists, chest and the base of the neck.
Possible skin sensitivity. If pregnant or under a doctor's care, consult your physician. Dilution not required; suitable for all but the most sensitive skin. Generally safe for children over 2 years of age.
http://www.youtube.com/watch?feature=player_detailpage&v=AgrU38PthsQ
Ingredients:
Spruce (Picea mariana):  helps to open and release emotional blocks, bringing about a feeling of balance and grounding.
rosewood (Aniba rosaeodora)  has a balancing effect on emotions and may help uplift feelings of despair.  Rosewood also helps to create a synergy with the other oils in the Valor Blend.
blue tansy (Tanacetum annuum): helps aid liver function and calm the lymphatic system.  It helps over come feelings of anger and negative emotions and encourages feelings of self control.
frankincense (Boswellia carteri) in a base of almond oil:  helps elevate the mind and overcome feelings of sadness and despair.  Frankincense has been known to increase spiritual awareness, enhance meditation and boost the body's defenses.
This essential oil blend is one of the oils in the Everyday Oils kit.
order yours here
EarthKosher Certified
* This statement has not been evaluated by the Food and Drug Administration. This product is not intended to diagnose, treat, cure, or prevent any disease.

Tags: Everyday Oils Kit, Valor essential oil blend
Filed under: All About The Everyday Oils Kit