Ancient Scripture Raindrop Technique
9th
July 2010

0 Comments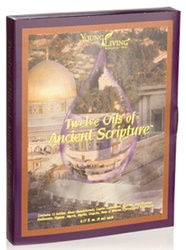 SCRIPTURE RT $95.00 designed by Kiannaa Leighland with Young Living's Twelve Oils of Ancient Scripture™ Kit to facilitate and enhance a personal spiritual healing. [quoting Kiannaa: "I designed this RT because there wasn't one." ~♥ ]
This kit contains the twelve most significant oils found in the Bible. Young Living's wish in bringing them to you is that you will savor and enjoy the beautiful fragrances and intriguing histories of these precious pure essential oils. Gary Young draws on his travels to biblical lands and explains the twelve oils on an audio CD, also included in this collection.
The oils used in this RT are Aloes/sandalwood (Santalum album), cassia (Cinnamomum cassia), cedarwood (Cedrus atlantica), cypress (Cupressus sempervirens), frankincense (Olibanum — Boswellia carteri), galbanum (Ferula gummosa), hyssop (Hyssopus officinalis), myrrh (Commiphora myrrha), myrtle (Myrtus communis), onycha (pronounced oh-nigh-kah), a very thick oil, remove the plastic orifice and warm the bottle in your hand so that the oil will flow — Styrax benzoin), Rose of Sharon/cistus (Labdanum — Cistus ladanifer), and spikenard (Nardostachys jatamansi).
The massage techniques incorporated into this treatment are a variety, some of which include Tibetan Reflexology, Russian Effleurage along with the original "feathering" from the Original RT.
Contact info to schedule your appointment, click here

Tags: Ancient Scripture Raindrop Technique, Massage Therapy Myrtle Creek Oregon, Myrtle Creek Massage Therapy, WDT
Filed under: Aromatherapy & Raindrop Techniques