Essential Oil Diffusers For All Purposes
11th
August 2012

0 Comments
How To Determine The Best Diffuser For Your Needs
By Beau Miakinkoff, LMT, LMP, CA, IAC
All of us at one time or another have absolutely loved our scented candles and oil burners that come in a variety of beautiful designs.  However, if you are seeking a method to assist with health and well-being, scented candles and oil burners are not the ideal means to those desired improvements.  I am happy to discuss the five essential oil diffusers offered by Young Living that are specifically engineered to promote the health and well-being benefits with the use of therapeutic grade essential oils.
None of the Young Living diffusers use heat as heat will alter the healing properties of the oils and render the well-being purpose of diffusing null and void. Diffusers may be used in the home, office and even when traveling.
Research supports diffusing therapeutic grade essential oils for a variety of reasons.  The following is just a short list that helps with:
Reducing bacteria, mold, fungus, and unpleasant odors
Relaxing the body, clears the mind, relieves tension
Improving concentration, alertness and mental clarity
Stimulating neurotransmitters and increases endorphin secretion
Promoting growth hormone production and receptivity
Supporting the IgA antibodies that counteract candida
Supporting digestive function and hormonal balance
Relieving headaches and
Is excellent for the use of uplifting/altering moods and feelings creating a better health improvement environment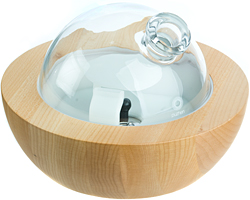 Young Living's Aria™ Ultrasonic Diffuser is a unique, natural way to bring the benefits of essential oils into your home or workplace.
This Aria combines the latest in ultrasonic technology with a variety of useful features. The included remote lets you choose from a selection of soothing, built-in sounds or enjoy the multicolored LED lights. With the built-in speakers, you can plug in your own personal music player and enjoy the music of your choice.
The Aria comes with free 5ml essential oil bottles of Lavender & Citrus Fresh.
Demo Video:  http://www.youtube.com/watch?v=WcXskAwVbdc&feature=player_detailpage
This unit is recommended or mood enhancement.  It is not ideal for mold elimination as water is used inside the unit.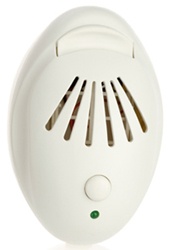 The Travel Fan diffuser introduces convenience and portability to essential oil diffusing. The Travel Fan is capable of diffusing any essential oil. It diffuses by blowing cool air through the essential oil pad, releasing the therapeutic benefits of the essential oil into the air and allowing the oils to be easily absorbed. The Travel Fan Diffuser uses a quiet but powerful mini fan and all natural high-density essential oil pads, and has output that can fill room as large as 1000 .sq. ft.
The travel fan diffuser includes 1 Lavender essential oil(5ml).
How to use: Apply 15-20 drops of your favorite essential oil. (Additional drops may be preferred) Slide the essential oil pad holder, grid facing down, back into the diffuser. Press down the on/off button to turn on the diffuser. A green indicator light will turn on when the unit is diffusing.
This unit is excellent for the person on-the-go and traveling.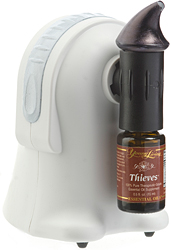 Enjoy the ultimate therapeutic experience and the most advanced diffuser technology with Young Living's TheraPro™ Premium Diffuser. This atomizing diffuser features durable, high-quality components that will stand up to repeated use in any environment and is the ideal way to experience the healing benefits of Young Living essential oils.
Includes free 15 ml bottle of Thieves essential oil.
Demo Video:
This unit is good for eliminating or controlling mold situations. It is recommended for the health and wellness improvement.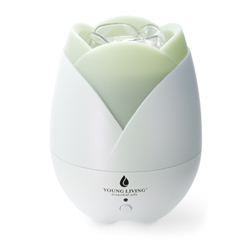 Young Living's newly designed Home Diffuser combines a humidifier, air purifier, atomizer, and aromatherapy diffuser into one product that safely releases essential oils into the air to eliminate odors and create a spa-like atmosphere.
Includes free 5 ml bottles of peppermint & citrus fresh essential oils.
How to use: Fill well with distilled or purified water, add 8–12 drops of the desired essential oil, and turn on diffuser. See instruction booklet for complete usage details.
This unit is recommended for mood enhancement.  It is not ideal for mold elimination as water is used inside the unit.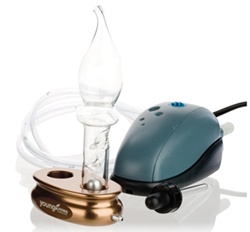 The Essential Oil Diffuser disperses essential oils without heating them so they retain their therapeutic benefits. With Young Living's® innovative air pump, oils are dispersed in a microfine vapor, allowing them to remain suspended in the air for extended periods of time. Available in bronze (shown), green and silver.
How to use: The Young Living Diffuser consists of an air pump, an oil well base, and a glass nebulizer connected by a flexible air tube. Attached to the air tube is a flow control valve. You can set the pump on the floor or under a table so that it is out of sight. For your convenience, you can attach the pump to an appliance timer so it will turn on and off automatically.
This unit is good for eliminating or controlling mold situations.  It is recommended for the health and wellness improvement.
~ ~ ~ Purchase Your Diffuser Here ~ ~ ~
http://whitedragontherapies.younglivingworld.com/MainFrame.asp?BodyFrame=products/ProductCatalog_Main.asp
My all time favorite diffuser is the Ultrasonic Misting Diffuser.  Young Living used to offer another version of this unit but does not do so anymore.  At the time of the original writing of this article, it was available and could   be ordered from http://www.abundanthealth4u.com/Humidifying_Diffusers_s/117.htm
* I have only been able to find the Ultrasonic Misting Diffuser on Ebay and Amazon.com now. (4/2014)
This sleek diffuser is wonderful for both adding humidity to the air, and for dispersing your desired essential oil or blend throughout a room! The ultrasonic transducer transforms water and essential oil into a cool mist. This diffuser also includes an output adjustment knob, and 5 timer features so you can more fully control the output and timing of your diffuser. This diffuser is nearly silent—all you will really hear is the gentle sound of trickling water—so it can be used both at night or during the day. And since this diffuser creates negative ions with its ultrasonic action, it also works to help purify the air! The blue night lights can be turned on or off.
Note: This diffuser only works with the standard U.S./North American power supply (110-120 V, AC, 60 Hz)—other types of power supplies require the use of a power adapter.
Pricing: 1-5: $69.95 ea., 6-19: $55.96 ea., 20-29: $52.46 ea., 30+: $48.97 ea.

Tags: Aria Ultrasonic, dispersing essential oils, essential oil diffusers, essential oils treatments, Myrtle Creek Oregon essential oil diffusers, nebulizer diffuser, the home diffuser, the travel fan, therapro premium diffuser, ultrasonic misting diffuser with bue lights, WDT
Filed under: Getting Started With Essential Oils