Lavender Essential Oil
9th
July 2010

0 Comments
(Lavendula angustifolia) Of the several varieties of lavender used medicinally, Lavendula agustifolia is the most important. Lavender is the most versatile, best loved and most widely therapeutic oil of all all essential oils.  Both the flowers and the leaves are highly aromatic, but only the flowers are used to make essential oil.
Lavender is one essential oil that can be used in every home by every person, and in this issueit's all about rediscovering lavender's many uses! The word "Lavender" comes from the Latin lavare which means to wash, and certainly it is one of the most cleansing of essential oils, both physically, emotionally and spiritually.
Young Living's lavender is a morenatural alternative to many store-bought products, and once you begin using itaround the house and for your everyday needs, you'll wonder how you ever managed without it. Lavender essential oil is a must have for every essential oil user's collection.  Lavender oil is also the #1 of the top 10 essential oils sold world-wide. No wonder it is the "go to" oil if ever in doubt about what to do or use in any given situation.

Young Living Lavender Therapeutic Grade (T-G) Essential Oil can be used for dietary, aromatic or topical use. It is steam distilled from the flowering tops of the plants. Lavender is a universal oil that has traditionally been known to balance the body and to work wherever there is a need.

One of the first natural remedies to be reintroduced to Western culture,today lavender is used for everything from calming the mind to soothing irritated skin.
The physical pro-health use properties of lavender T-G essential oil include: analgesic, anti-coagulant, anti-convulsive, anti-depressant, anti-fungal, antihistamine, anti-infectious, anti-inflammatory, anti-rheumatic, antiseptic, anti-spasmodic, antitoxic, cardiotonic, regenerative and sedative. Other medicinal uses can include:  acne, allergies, burns (cell renewal), cramps (leg), dandruff, diaper rash, flatulence, hair loss, herpes, indigestion, insomnia, lower blood pressure, lymphatic drainage, menopausal conditions, mouth abscess, nausea, phlebitis, pre-menstrual conditions, scarring (minimizes), stretch marks, tachycardia, thrush, water retention.  It can be used as a decongestant and is also effective against colds, flu, and other catarrhal conditions. Tension, depression, hypertension, headache and stress all respond particularly well to its soothing properties

The aromatic influence of lavender promotes consciousness, health, love, peace and a general sense of well-being.  It's frequency is approximately 118 MHz and has an influence on human emotions and spirituality.
On a more spiritual level, lavender is wonderful for burning during meditation practices as it helps calm the mind allowing focus on the void. It is associated with the planet mercury and resonates on the musical key of A. Lavender vibrates in the 6th chakra and is associated with the color indigo.

Using lavender in massage oil combinations is so great for relief of muscle tension. Its cleansing properties encourage the acids to be released from the muscle tissue into the blood where the toxins can then be eliminated by the lymphatic system.  It is also good for arthritis because of its ability to cleanse acids around the stiff inflamed joints. Here are a few quick and easy ways to incorporate its benefitsinto your daily routine:
Relaxation
Massage lavender into the back of the neck or bottom of the feet for relaxation.

Add a few drops of lavender to your bath water for a relaxing soak.

Diffuse lavender before bed to quiet the mind and prepare for sleep.
Skincare
Soothe minor burns by applying 2-3 drops to the affected area.

Rub several drops onto the scalp area to help soothe minor irritations.

Reduce or minimize scar tissue by massaging it on or around affected areas.

Apply 2-3 drops to relieve itching and soothe skin.
You may have seen other lavender-like products that promise the same benefits as true lavender essential oil. However, these synthetic products merely duplicate the aroma of lavender, and cannot offer the health-enhancing benefits of Young Living Therapeutic Grade™ lavender.
Lavender blends well with florals such as rose, geranium, ylang ylang, chamomile and  jasmine. Citrus oils such as orange, lemon, bergamot, and grapefruit blend particularly well. Blending lavender with herbal oils the likes of rosemary, marjoram, patchouli, clary sage, cedarwood, clove and tea tree can be quite a soothing touch to these other medicinal properties.
Lavender is usually safe for all age groups, but some hay fever or asthma sufferers may be allergic. Dilute well if taking homeopathic remedies.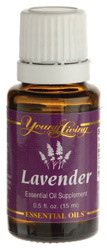 order yours here
EarthKosher Certified
* This statement has not been evaluated by the Food and DrugAdministration. This product is not intended to diagnose, treat, cure,or prevent any disease.
Other resources for lavender essential oil:

Tags: Everyday Oils Kit, lavender essential oil
Filed under: All About The Everyday Oils Kit