A One Stop Resource for All the Oils in the Everyday Oils Kit
10th
May 2013

0 Comments
by Beau Miakinkoff, LMT, LMP, CA, IAC   I have collected  an assortment of  information for the Everyday Oils Kit by Young Living Essential Oils. This has been an on-going, work in progress.  As I find viable articles, I have tried to include links to the appropriate oil wherever possible.  I hope you will find this attempt at compiling a "one-stop-shop" to retrieve all the information for all the oils of the Everyday Oils Kit a valuable resource for Essential Everyday Oils.
*An important note is needed here in your reading.  Late in 2014, Young Living changed two of the oils that were originally in the Everyday Oils Collection.  Valor and Peace and Calming has been replaced with Stress Away and Melaleuca.  With this being disclosed, I will add the two new oils in the kit to this compilation and put and asterisk with yet another reminder on the two oils that are no longer included in the Young Living Everyday Oils kit.
This Everyday Oil kit is a collection of 9 Young Living essential oils that may help to provide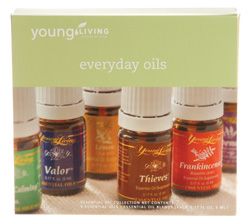 the human necessity for being  uplifting, protective, calming and regenerating.  These are just some of what will be experienced with the essential oils in the Start Living with Everyday Oils kit from Young Living. The essential oils in this kit can be used as perfumes, aromatherapy, cooking, and medicinal purposes.  The specially-selected oils in this collection offer ongoing benefits for your health, home, and body.  All of the essential oils in this kit are perfect for your essential oil First Aid kit too!
110 uses for the Everyday Oils kit
How to use your Everyday Oils Kit
A little more about the oils and their uses:
relaxing benefits, calming, aid with sleep, soothe sunburn, ease stomach discomforts, soothe minor skin irritations and itching, soothing and relaxing foot bath, bath, scent linens, scent laundry in the dryer, diffuse to minimize allergies to dust mites and pollen, add a drop to vanilla ice cream for a delicious dessert, beauty recipes, and much more!
a clean, refreshing and purifying scent that uplifts, aids immune function, a powerful antioxidant, substitute for lemon juice in recipes, add a drop or two to flavor your glass of water or cup of tea, cleanse and sanitize surfaces, balances oily skin, preserves fresh produce, a drop in dishwasher prevents spotting, improves circulation, removes stains and adhesives, and much more!
highly regarded for soothing digestive issues, improves concentration and mental activity, uplifts mood, eases headache pain, soothing and invigorating in body/neck/foot massage, in foot bath, a drop flavors water or tea, eases congestion, in cooking a drop adds a delightful minty flavor, and much more!
sweet, calming, warm balsamic aroma, ease stress and despair, deepen one's spiritual connection and centering, support immune system, help in repair sun damage and renew healthy looking skin. All about Frankincense
*This oil is no longer included in the Everyday Oils Kit
comforting and balancing (spiritually and physically), on bottom of feet to help balance body systems, ease anxiety, ward off negative energy, release tension, inhale for stage fright or phobias. (For topical and diffusing use only)
highly effective against airborne bacteria when diffused, eliminates odors (does not cover them up!), rub on feet for immune support, mold, mildew, cleansing wounds (yes, it will sting a little), insect bites/stings, air freshener, laundry freshener, and much more!
50 Ways to use Thieves essential oil
*This oil is no longer included in the Everyday Oils Kit
a fragrant blend to help calm tensions and uplift spirits, aids in a good nights sleep, helps alleviate stress and anxiety. (For topical and diffusing use only)
formulated for diffusing to clean and sanitize the air, reducing mold/mildew, disagreeable odors, topically to cleanse and soothe bites/cuts/scrapes, insect repellent, help get rid of bed bugs, air freshener, a drop sanitizes hands. (For topical and diffusing use only)
ease aches and pains, helps improve circulation, ease cramps and bloating. (For topical use only)
Young Living's Stress Away™ essential oil blend is a natural solution created to combat normal stresses that creep into everyday life. Stress Away is the first product to contain the unique stress-relieving combination of lime and vanilla pure, therapeutic-grade essential oils. Stress Away also includes copaiba and lavender to reduce mental rigidity and restore equilibrium. Featuring powerful plant constituents, such as the cedrol found in cedarwood and the eugenol that occurs naturally in vanilla, Stress Away can help induce relaxation and reduce occasional nervous tension.
Melaleuca alternifolia is highly regarded for its wide range of uses. It supports the immune system and is beneficial for the skin. Commonly known as Tea Tree Oil.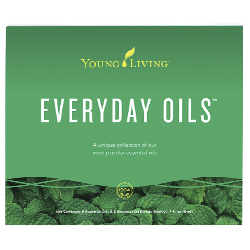 yl_simply_essentials  a power point presentation about some of the oils in the Everyday Kit
Everday Oils vs OTC  a PDF visual about the use of over the counter pharmaceuticals vs the use of essential oils
It is probably a good idea to print out, read, and keep these instructions handy to help you to learn  HOW TO ENROLL INTO YL DISTRIBUTORSHIP.  This will enable you to obtain the Everyday Oils kit at a substantial discount.
Order your Everyday Essential Oils here

Beau Miakinkoff
YLEO DIST#1003506
503-804-9711

Tags: All About Frankincense, Lavender, Lemon, Massage and essential oils treatments in Myrtle Creek Oregon, Melaleuca alternifolia, PanAway, Peace and Calming, Peppermint, Purification, Stess Away Essential Oil Blend, Stress Away, Thieves, Valor, WDT, Young Living Everyday Oils Kit, Your one stop resource for all the oils in the Everyday Oils Kit
Filed under: All About The Everyday Oils Kit